If you buy through affiliate links on this page, we may receive a referral fee. This is how readers support the site's operation. Learn more here.
This is a guide to the best nugget ice makers in the market. If you have been looking for an ice making machine that produces Sonic-style soft and chewable ice, you are in the right place.
We have included portable, under-counter and standalone ice makers so that you can choose the one that best fits your needs.
We also have an extended shopping guide further below with essential shopping tips to keep in mind as well as usage and maintenance basics of nugget ice makers.
If you have a question or comment about buying an ice maker, leave a comment below or leave me a message on our Contact page.
First up, a quick comparison of the five best nugget ice makers selling today:
Best Sonic Nugget Ice Makers Compared
* BEST OVERALL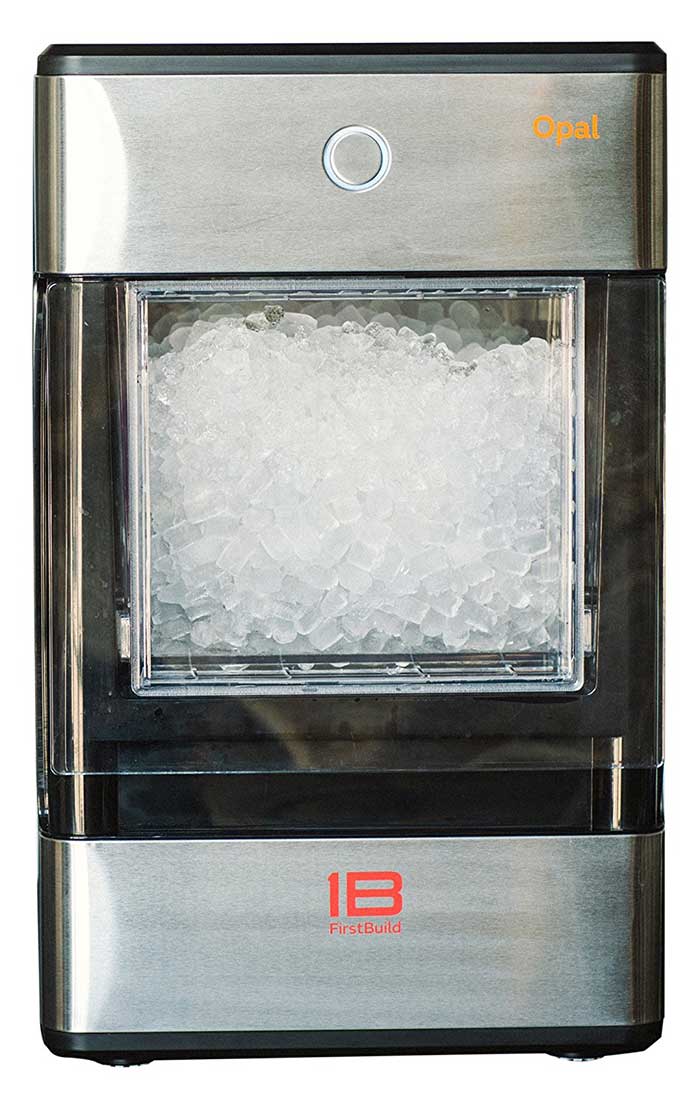 Technical Details
| | |
| --- | --- |
| Brand Name | FirstBuild |
| Item Weight | 44 pounds |
| Product Dimensions | 15.5 x 10.5 x 17.2 inches |
| Capacity | 3 pounds |
| Installation Type | freestanding |
| Special Features | bluetooth connection |
| Color | silver/black |
My Rating:
Check Price:
* BEST BUDGET BUY
Technical Details
| | |
| --- | --- |
| Brand Name | IKICH |
| Item Weight | 17.2 pounds |
| Product Dimensions | 13.4 x 10.2 x 14.6 inches |
| Capacity | 2 liters |
| Installation Type | freestanding |
| Special Features  | clear ice, ice cubes ready in 6 mins |
| Color | silver |
My Rating:
Check Price:
* BEST UNDERCOUNTER UNIT
Technical Details
| | |
| --- | --- |
| Brand Name | Ice-O-Matic |
| Item Weight | 133 pounds |
| Product Dimensions | 22.6 x 14.9 x 33.4 inches |
| Capacity | 22 pounds |
| Installation Type | freestanding |
| Special Features | great capacity |
| Color | silver |
My Rating:
Check Price:
* BEST PORTABLE UNIT
Technical Details
| | |
| --- | --- |
| Brand Name | VIVOHOME |
| Item Weight | 19.51 pounds |
| Product Dimensions | 14.75 x 14.5 x 11 inches |
| Installation Type | freestanding |
| Special Features | large see-through window |
| Color | silver |
My Rating:
Check Price:
* BEST STANDALONE UNIT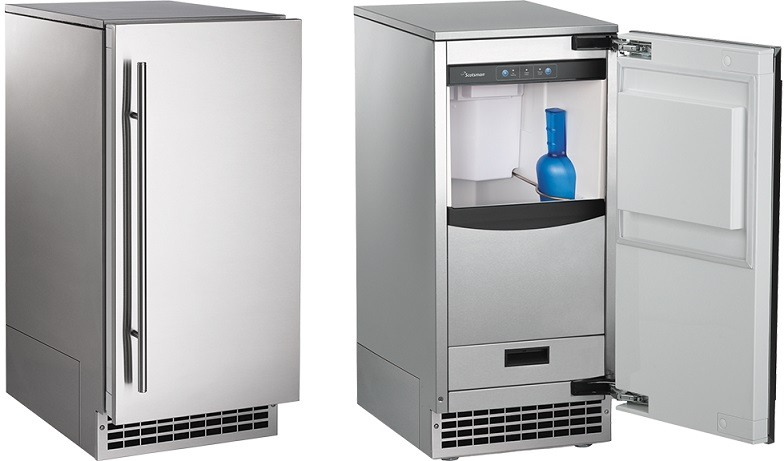 Technical Details
| | |
| --- | --- |
| Brand Name | Scotsman |
| Item Weight | 129 pounds |
| Product Dimensionss | 22.8 x 14.9 x 33.4 inches |
| Installation Type | freestanding |
| Special Features | self-closing door |
| Color | silver |
My Rating:
Check Price:
Top 5 Sonic Ice Machines & Nugget Ice Makers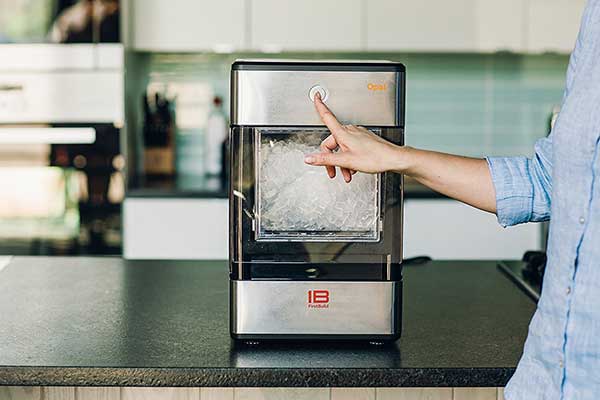 AMAZON
Technical Details
| | |
| --- | --- |
| Brand Name | FirstBuild |
| Item Weight | 44 pounds |
| Product Dimensions | 15.5 x 10.5 x 17.2 inches |
| Capacity | 3 pounds |
| Installation Type | freestanding |
| Special Features | bluetooth connection |
| Color | silver/black |
Pros
Elegant design
Bluetooth equipped
Portable
Clear ice
Cons
Most low-cost Sonic ice machines can produce more ice in a day than the GE's Opal Nugget ice maker.
But none of them can produce the quality of Sonic nugget ice like this Opal can!
At this price, there's nothing else on the market that can make such high-quality, Sonic-style nugget ice.
Price-wise, the Opal lies in-between high-end commercial quality ice makers like Scotsman and lower-end portable ice makers like the IKICH.
If you consider the quality of nugget ice, price, versatility, setup and ease of use, then the Opal Nugget ice machine wins our vote for the best nugget ice maker sold online – hands down. Bluetooth connection and app can be a reason to buy for geeks. This model a great combination of minimalism in design and high-quality ice produced.
Best Features
1. Quality of Sonic-style nugget ice
If you are a fan of Sonic ice, you should stop shopping right now. The Opal Nugget machine makers the best, softest, chewiest nugget ice of any machine less than $2,000. Only a Scotsman comes close.
The ice isn't quite as soft as Sonic – it's just a tad bit harder. But it'll satisfy every fan.
2. 15-Minute Ice On Tap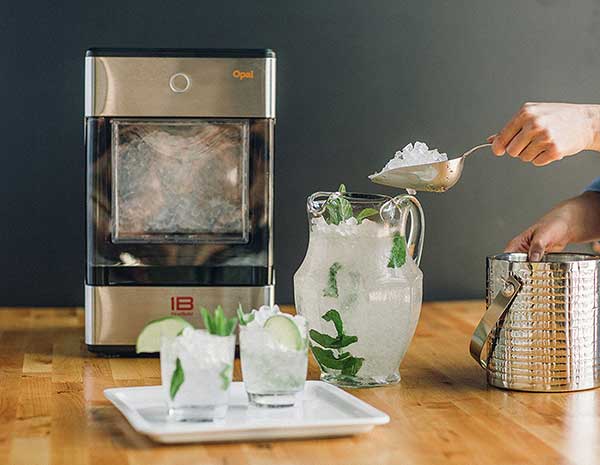 One of the best things about this ice machine is how quickly it makes ice.
Within 15 minutes, you'll see the first batch of Sonic ice drop (about enough for 1-2 glasses).
After that, Opal will continue making nugget ice at a rate of about 1 lb per hour until its 3 lb bin is full.
3. Bluetooth / Smartphone Scheduling
Very few ice makers come equipped with a smart phone app.  Opal Nugget's app lets you schedule ice making to start or stop at any time, from anywhere.
The remote scheduling feature is handy thing, especially if you're running home late from the office.
Concerns
The biggest concern / issue we have with the Opal Nugget ice maker is the small bin size.
It only holds 3 pounds of ice, so it's not suitable for an office or a large party of more than 8-10 people.
The other issue noted by some verified owners is that it needs to be cleaned frequently, and needs distilled water to produce the right quality of ice.
We concur – this unit is a bit sensitive to water quality.  But this is not very different than the cleaning requirement for higher-end models like a Scotsman.
Finally, this ice maker is not suitable for use outside when the temperature exceeds 90 degreesF.
AMAZON
Technical Details
| | |
| --- | --- |
| Brand Name | IKICH |
| Item Weight | 17.2 pounds |
| Product Dimensions | 13.4 x 10.2 x 14.6 inches |
| Capacity | 2 liters |
| Installation Type | freestanding |
| Special Features  | clear ice, ice cubes ready in 6 mins |
| Color | silver |
Pros
Make ice in 6 minutes
Energy efficient
2 ice sizes
Cons
ice production only for small company
There are other Sonic ice machines that can produce more ice in a day and store more of it in their bins than the IKICH portable nugget ice maker. But we still chose it as the best overall.
While it may not have the most impressive specs, this portable sonic ice machine won us over for how it combines several features to create a great overall experience.
When we looked at the price, capacity, versatility, setup and ease of use, the IKICH took the most points home. Here are its best features.
Best Features
1. Compact and lightweight design
One of the biggest reasons I fell in love with the IKICH portable ice maker is its versatility. Because it is so compact (8.7 x 12.3 x 12.6 inches) and lightweight (less than 18 pounds), it can be used in a wide variety of situations.
Want ice in your kitchen? Just plop it on the counter.
Want chilled drinks by the pool? Carry it outside by hand.
Need ice in your limited-space RV? The IKICH will fit on just about any surface.
Thinking of going camping? Don't forget to bring it along. It won't add much to your load.
You can even use it at the office, outdoor event, bar and anywhere else chilled drinks are needed. Most other units in this list don't have that kind of flexibility.
So if you think your kitchen is just one of the many places you are going to be using this pellet ice maker, then it's definitely what you need to get.
If you are interested in portable ice makers, we have more options and advice in our full Portable Ice Makers Guide.
2. 26 pounds production capacity
Like most portable ice makers, the IKICH is capable of producing 26 pounds of ice per day. For most individuals, families, small offices and home events, this is enough.
The unit makes around 9 ice cubes at a time. If this is not enough to go around, just add water into the reservoir and wait a short 6 minutes for more ice to be made.
The quick cycle time comes in handy when you have several guests around or if you are using the ice maker at an event or bar.
3. No installation, easy to use
You can't beat portable ice makers when it comes to ease of use. To start off, they don't need any installation at all. No need to hook up a water line or install a drain pump. The IKICH comes ready to use.
And using it is a breeze. The button controls respond quickly with just a touch. Everything is well labeled to make sure you always know what you are doing whether you want to add water, remove ice, select a preferred ice cube size or turn the unit off.
A non-intrusive indicator light will alert you if the reservoir needs more water and when the ice basket is full.
The ice basket is removable and there is an ice scoop included.
4. Chewable ice
Finally, the whole reason you have come here: soft chewable ice.
Now, the IKICH is not the best nugget ice machine. Its ice cubes are neither the softest nor the crunchiest.
But if you are looking for a portable nugget ice maker, this is one of the best. Several users also suggested using filtered tap water. It produces softer nugget ice cubes.
Concerns
The only downside I would point out is that the ice is not as good as Sonic's crunchy nugget ice. It produces the usual bullet-shape cubes of most portable ice makers though it is softer and more chewable.
But if you want proper sonic ice, I suggest the under-counter or stand-alone nugget ice makers below.
AMAZON
Technical Details
| | |
| --- | --- |
| Brand Name | Ice-O-Matic |
| Item Weight | 133 pounds |
| Product Dimensions | 22.6 x 14.9 x 33.4 inches |
| Capacity | 22 pounds |
| Installation Type | freestanding |
| Special Features | great capacity |
| Color | silver |
Pros
Can be used under counter
Perfect clear ice
Simple design
Cons
If the daily 26lbs from a portable sonic ice machine is not enough, try the 85lb Ice-O-Matic nugget ice machine.
Though much bigger than a portable ice maker, it is still compact enough to fit under most counters. It is ideal for homes, entertainment venues, small offices and cafes. It is rated safe for outdoor use though within certain limits. See the product manual for full instructions.
The Ice-O-Matic won the best under-counter Sonic ice maker prize thanks to its fairly easy installation, ease of use, compact dimensions and most importantly, the incredibly soft nugget ice it produces.
Best Features
1. Soft chewable ice
The company calls it Pearl ice. It is roughly the same soft ice you would get at a Sonic. The cubes or nuggets are smaller and much softer than normal ice cubes. In the mouth, they feel very crunchy and are fun to chew.
Pearl ice is great if you love to eat your ice along with your cocktail or smoothie. You'll also love it if you love crunching ice on its own.
2. 85lbs production capacity and 22lbs storage capacity
The Ice-O-Matic produces a full 85lbs of nugget ice every 24 hours. This is what makes it perfect for offices, bars and cafes. If you have a large family or love to host guests, the large production capacity will also come in handy.
As the ice is made, it is dumped into an insulated chest. Make sure you keep clearing it because it can only hold up to 22lbs of ice. When the chest fills up, the machine will automatically stop making more.
Another thing to note: the chest is only insulated not refrigerated. This makes sure the ice remains fresh. But it also means that your ice will start melting if left in the chest for too long.
When the unit it senses that the level of ice in the chest has gone too low, it immediately starts making some more. So you will always find fresh nugget ice in the chest.
3. Overflow protection
As mentioned, the Ice-O-Matic only holds 22lbs of ice nuggets. It will keep making ice for 6 to 7 hours before the bin fills up.
Once full, the machine has an ultrasonic overflow protection sensor that immediately stops more ice from pouring in. Otherwise, the ice maker would get damaged.
You can leave the machine working and go about your business without worrying that you will find a mess when you come back.
The same sensor can also tell when the ice in the bin has melted or has been scooped out. When the stored ice goes below a certain level, it triggers the ice maker to start making more ice.
4. Easy to use
Most of the work is in installing the ice maker. You may even need the help of a professional to install it properly under the counter and set up the drainage.
Once installed, using it is very easy. Open the door and you will find a 3-section control panel. The first section contains the main power button and an indicator light. The light glows green when the unit is on.
The second section has just one indicator light. It is the 'Check Water' light. Normally, it should be off. If it glows red, it means there is no water supply coming in. Check your line. The machine will not work until the light goes off.
The third section consists of a 'Time to Clean' indicator light and a 'Clean Reset' button. The light goes on after around 6 months, indicating that it is time to give the machine a deep thorough clean. Press the button when you are done cleaning to reset the cleaning timer again.
The manual is very detailed with plenty of easy instructions and pointers. Refer to it before you install the Ice-O-Matic nugget ice maker and any time you run into trouble with the machine.
5. Pure Ice® Protection
The Pure Ice® system is a built-in protection that ensures your ice is safe for consumption. It consists of an antimicrobial compound integrated into the interior of the ice maker at no extra cost to you.
The silver-based compound, prevents fungal and bacterial growth on the interior surfaces of the ice machine. So you can be sure that every piece of nugget ice you enjoy is completely safe. Even better, the compound keeps working for the entire life of the ice maker.
And don't worry about any adverse side effects. Silver is completely safe for people and animals and even the environment.
Concerns
The major drawback with this ice maker is the fairly involved installation process. While you can do it yourself, you will most likely need to call in a professional to install it properly under the counter.
This adds extra cost and time to the setup process.
Another thing to note: the Ice-O-Matic is not cheap. At slightly over $2,500, it is one of the most expensive under-counter ice makers you will find.
AMAZON
Technical Details
| | |
| --- | --- |
| Brand Name | VIVOHOME |
| Item Weight | 19.51 pounds |
| Product Dimensions | 14.75 x 14.5 x 11 inches |
| Installation Type | freestanding |
| Special Features | large see-through window |
| Color | silver |
Pros
Lightweight
Easy to use
Lught indicator
Cons
As with the similarly compact IKICH ice maker, the VIVOHOME Portable ice maker does not produce the best nugget ice. But if you want chewable ice without spending over a thousand dollars on an under-counter or standalone ice machine, then the VIVOHOME or IKICH ice makers are the best.
We choose it as the top pick for portability because of its compact design and low weight. At only 21 pounds, you are going to have an easy time moving around with it. You can use it in your RV, boat or when camping.
Best Features
1. Chewable ice
The ice is not as soft and crunchy as Sonic ice but it is still chewable. You can also add it to your cocktails and it will look and taste as good as any nugget ice.
The VIVOHOME portable nugget ice maker is great for those who want chewable ice without breaking the bank. It is also ideal for those who want nugget ice on the road.
2. Compact and lightweight
A good number of the customers reviewing this model said they bought it specifically for use on the road either in their RV or in outdoor camping.
Looking at the size and weight of the ice maker, it is easy to see why many people prefer it for travelling. It is very compact (measures 14.75 x 14.5 x 11 inches) and quite light (19.51 pounds).
Even if you are using it at home, you will be glad that it takes up very little space on the counter.
If you don't have the space for an under-counter or standalone ice machine, try this one.
3. 26lbs production capacity and 1.5lbs storage capacity
For the average family, 26lbs of ice per day is plenty. You can have your fill of chilled drinks without running out of ice.
The storage capacity is however smaller than that of most portable ice makers. The bin can only hold 1.5lbs at a time. But considering the compact and lightweight design, this is understandable.
The relatively small storage bin is not really a big deal since you can make more ice in as little as 6 minutes. So when you run out of ice, just add more water and you'll have more ice in no time.
4. Easy to use
The ice maker has what the manufacturer calls Easy-Touch buttons. They are set flush to the surface of the ice maker such that you feel like you are touching instead of pressing them. Just a slight tap will activate whatever setting you want.
Remember that there is also no installation needed unlike the Ice-O-Matic above and the Scotsman below. Just get it out of the box, connect it to the mains, add water and your ice is ready to pop out.
Once the ice is ready, the removable ice tray makes it easy to scoop the ice into your drink.
Concerns
Don't leave the ice in the tray for too long. It tends to develop a stale plastic-y taste.
If freshly made ice also has this taste, it means your unit needs cleaning. Unplug the machine and wash it with water and vinegar. Then make a new batch of ice cubes using water and vinegar and discard them.
Make yet another batch, this time with clean filtered water only and discard the ice cubes. ​This will remove any taste of vinegar. The next batch you make should taste fresh.
For years, Scotsman supplied its nugget ice machines only to commercial places such as Sonic. But as nugget ice has become popular, the company has created a residential line of its famed chewable ice makers.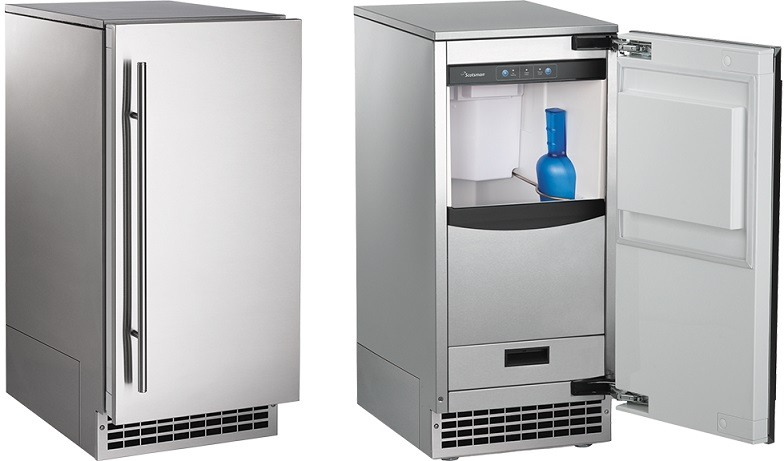 AMAZON
Technical Details
| | |
| --- | --- |
| Brand Name | Scotsman |
| Item Weight | 129 pounds |
| Product Dimensions | 22.8 x 14.9 x 33.4 inches |
| Installation Type | freestanding |
| Special Features | self-closing door |
| Color | silver |
Pros
Interior light
Self closing door
Nugget ice
Cons
The Brilliance series consists of four Sonic ice makers: SCN60GA-1SU, SCN60GA-1SS, SCN60PA-1SU and SCN60PA-1SS.
These models are essentially the same except for a few slight differences in drainage and finishing.
The first two use a Gravity drain model (where melted water flows down to a floor drain via gravity). The last two are fitted with a pump. They are ideal if your drainage is at a higher level and cannot be accessed by the water via gravity.
Other than that and a few differences in door finishing, all models have the same specs. Here are their best features.
Best Features
1. 85lbs production capacity
Despite being a freestanding unit, the Scotsman Brilliance produces the same amount of ice per day as the under-counter Ice-O-Matic nugget ice maker.
85lbs is quite a lot for a residential ice maker. Most people won't need all that ice in a day. But it's still nice to know you have access to lots of ice should you ever need it such as when you have guests or you hold a large home event.
If you have a restaurant, an office with several workers, a bar or an entertainment venue, the large capacity will also come in handy.
2. 26lbs storage capacity
The large production capacity is matched by an equally large storage capacity, which is 4lbs bigger than that of the Ice-O-Matic.
When you switch the machine on, it will keep making ice until the bin is full. The sensor then automatically shuts off the unit.
A full 26lbs bin is still a lot for most families. Some users say they can use a single bin over several days, thanks to the ice maker's well insulated chest that can keep ice frozen for much longer than other models.
Of course the bin will empty faster if you have guests over or if you are using the machine at a bar or restaurant.
3. Keeps ice solid for longer
I have mentioned how some users use the stored ice over several days, some even up to a week. It may seem like the unit keeps the ice refrigerated but that's not the case.
As with most ice makers, the Scotsman Brilliance storage bin is only insulated and not refrigerated. But it is so well insulated that the ice stays solid for much longer than in most ice makers. The more the ice in the bin, the longer it will last.
This is good news if you are planning to make one batch and use it over several days. And you don't have to worry about the ice getting stale, a major problem especially with portable ice makers. It will remain fresh throughout.
It is a good idea to leave the unit on and allow the sensor to regulate it. If the ice melts or you scoop ice and the level goes down past a certain point, the machine will automatically begin making more ice until the bin fills up again and the sensor shuts down the unit.
4. Highest-Quality, Softest Sonic ice
The Scotsman Brilliance makes the best Sonic nugget ice. The Ice-O-Matic is a close second. But if you want the exact same soft and chewable ice you get at a Sonic, get the Scotsman.
You can finally stop buying bags of ice at a Sonic and make your own at home. Use it in your cocktails, add it to fruit juices, blend it in your smoothies or just eat it as it is. Either way, you will be enjoying the best Nugget ice.
Concerns
The one thing you should be concerned about is the installation process. Unlike portable ice makers, freestanding and under-counter nugget machines require more work in installation and setup.
It needs a water line and drainage. If you are going to be putting it under a counter(a high one), there is even more work involved.
If you are not comfortable handling the setup, consider hiring a professional to help you.
Another thing to note: the seller says you can use it outdoors but you should be extra cautious. Leaving it exposed to excess heat or moisture could cause damage that is not covered by the warranty.
For peace of mind, just use it indoors. If you want it outside, the farthest it should go is your porch.
How to Use a Sonic Ice Maker
Check that your unit has a manual. If it doesn't, contact the manufacturer or find a PDF version of the manual online.
Since every unit will be different, the manual is the best source of guidance.
But there are some general similarities among nugget ice makers of a similar type.
Take portable ice makers for instance. Whether it makes nugget ice, clear ice or traditional ice cubes, they all work essentially the same. You add water, press the ON button, set your preferred settings and then wait for the ice to start dropping.
For larger under-counter and standalone ice makers the main difference is that you connect a water line instead of adding water to a reservoir. The rest of the process is roughly the same: press the ON button, choose your settings (if any) and then wait for your ice.
The control panel of a Scotsman Brilliance nugget ice maker
Of course some ice makers will have additional features. For instance, you can set a timer in some. Others come with a cockpit-like array of LEDs to indicate different things such as a full tank, full bin, no water and so on.
As long as there is power and water, most ice makers are easy to figure out. Here are a few more tips we have gotten from customers who already own nugget ice makers.
Use filtered water
Filtered water is devoid of most minerals found in tap water. Not only does it result in softer and more delicious ice, it also ensures your ice maker lasts long.
Mineral-filled tap water tends to clog the insides of an ice machine. Even with frequent cleaning, your unit will still suffer since you may not reach some areas where the minerals have accumulated.
Some models actually come with a built in filter. If yours doesn't have a filter, install one the water line. If you are using a portable unit, just add filtered water to the reservoir.
It goes without saying that the water should be clean. This is ice that will end up in your mouth. Only use water that you are a hundred percent sure is safe and healthy.
Don't flavor your water
Nugget ice makers are designed to work only with water. Most manufacturers will explicitly warn users against adding any flavorings to the water.
Any additions could damage components in the ice maker and void your warranty. So forget about adding sugar, food color, preservatives or anything else you have in mind. Only use water.
Keep larger units indoors
While some larger nugget ice makers can be used outside, it is too much of a risk.  Heat, rainfall or dust can quickly damage your expensive unit. Most likely, the damage will be beyond warranty coverage.
And anyway, it will be hectic to move a 100+ pound unit in and out of the house. If you want something you can use outdoors, consider a portable nugget ice maker.
Caring For Your Ice Maker
Ice makers, even the big ones, are fairly easy to maintain. Apart from the water filter, there are no major components that you need to replace regularly.
The most important part of maintenance is cleaning. Most manufacturers recommend a deep clean every few months. This gets rid of any dirt and minerals that have accumulated on and in the unit.
Check your manual for comprehensive instructions on how to open up and clean your model.
How We Rate Sonic Ice Makers
There are four things we consider when rating sonic ice makers.
1. Capacity
This refers to both the production and storage capacity.
'The larger the capacity the better the ice maker' is not always a preferable metric. Instead, we recommend sonic ice makers that we think are ideal for a specific situation.
For instance, we would not have chosen an 85lb nugget ice maker for the best portable ice maker category. It wouldn't make sense.
On a similar note, we wouldn't rate the VIVOHOME Portable as a good nugget ice maker for a bar. Its capacity doesn't match up with the demands of such a place.
2. Quality of nugget ice
Though some ice makers – especially portable ones – claim to produce nugget ice, it is not really Sonic-quality ice.
As I have said several times throughout the guide, the larger ice makers produce the best quality Sonic ice.
3. Ease of use
This is a measure we apply across the board regardless of the size or type of ice maker. Whether it is a portable unit or a standalone one, it should be easy to use.
This means a clear manual, well-placed buttons and easy-to-understand settings.
4. Value for money
Finally, we check how much value for money an ice maker provides. That's why we readily recommend the Ice-O-Matic and Scotsman ice makers.
They may be pricey but you get full worth for your money for years to come. We wouldn't recommend a cheap ice maker that turns to be a headache to use and a waste of money.
Frequently Asked Questions
Which Size is The Best?
In terms of size, nugget ice makers range from small portable units to full standalone machines. The best size for you depends on a variety of factors including:
How much space you have, If your kitchen is big enough, a freestanding nugget ice maker might fit. To save space, you can opt for an under-counter ice maker. If the countertop is the only free space available, consider getting a portable unit.
If you plan to travel with it. You cannot carry an under-counter or freestanding ice maker with you not just because they are very heavy but also because they need an active water line to make ice. A portable ice maker would be better suited for the road. In some cases though, a compact under-counter unit can fit in an RV or boat as long as you can supply it with potable water.
Your budget. The bigger the ice maker the pricier it will be. On the lower end of the dollar scale, portable nugget ice makers will not cost you much. Under-counter and standalone units are a bigger investment.
How much ice you want. As with price, production and storage capacity usually goes up with size. Small portable units can only produce around 26lbs of ice while larger machines can go as high as 85lb.
Which Capacity to Choose?
Capacity encompasses two important things. First is the production capacity – the amount of ice a unit can make in a full day (24hrs).
This is an important measure of an ice maker's capability. It indicates whether it will meet your demand for ice. 26lbs is enough for most families and individuals. 85lbs makes the unit ideal for many other uses beyond the home such as restaurants and bars.
The IKICH and VIVOHOME Portable ice makers have the smallest production capacities at 26lbs apiece. Go for one of them if you just need enough ice for use at home.
The Ice-O-Matic and Scotsman Brilliance have 85lbs production capacity each, making them perfect if you want a virtually unlimited nugget ice supply.
The second thing is storage capacity – the amount of ice a unit can store at a time. Ice makers will stop making more ice once storage capacity has been reached.
As with the production capacity, storage capacity varies based on the actual size of the unit. For instance, VIVOHOME and IKICH can only store between 1.5lb-2lb of ice.
The Ice-O-Matic and Scotsman units on the other hand can store 22lbs and 26lbs of ice respectively. The only downside is that it actually takes several hours before the bins fill up. The other two units take less than 10 minutes to fill their trays.
Sonic or Nugget Ice Maker?
As we were researching the best nugget ice makers, we came across many people asking where they can get good portable Sonic ice makers.
As I mentioned in both the VIVOHOME and IKICH reviews, these portable ice makers do not produce the best nugget ice. In fact, I have yet to see any portable ice maker that can make perfect sonic ice.
The ones we have included in this guide only produce bullet-like ice that is softer and crunchier than most ice cubes from other portable ice makers. But it is not the same ice you get at a Sonic.
For that, invest in these bigger under-counter or freestanding units. They are more capable of making the classic nugget ice you love so much.
The ice you scoop from a Scotsman's or Ice-O-Matic's bin is almost similar and in some cases exactly similar to what you would get at a bar or a Sonic Drive-in. The main downside is that you have to pay much more, usually 10 times what you would pay for a portable ice maker.
But if you just want chewable ice and not an exact copy of Sonic ice, then ice from portable nugget ice makers is good enough.
What are The Advantages of Portable Ice Makers?
Portable Sonic ice makers are the winners when it comes to versatility. You can carry one around with you and most produce at least two different ice cube sizes.
Freestanding and under-counter nugget ice makers on the other hand, do not offer any flexibility.
For one, they only make one type of ice. Some other large non-nugget ice makers can produce as many as three or four different types and sizes of ice cubes.
Scotsman Brilliance and Ice-O-Matic however, are specialized for nugget ice only. If you want other ice cube varieties you have to buy a separate ice maker.
Secondly, you cannot carry them anywhere. Once you plop the ice maker in your kitchen or bar, moving it is a headache. Most under-counter and standalone ice makers weigh well over 100lbs.
The only small bit of flexibility they have is that you can use them in many different situations – home, restaurant, café, bar, office and so on. Portable nugget ice makers are too small to provide such usage versatility.
Is it Easy to Install and Setup?
There are two important aspects to every ice maker. The first is the source of water. Will you be adding water to a reservoir or do you have to connect an active water line to the unit?
The second is the drainage of melted water.
In the first aspect, portable ice makers are the easiest to handle. All you need to do is pour water into a reservoir and the unit will start making ice. This means no plumbing or special installation is necessary.
In fact, you can start making ice as soon as the unit arrives.
When it comes to drainage, portable ice maker are also the easiest to set up. In most models, you just have to pour out the melted water. In some innovative models, the melted water flows back into the reservoir to be reused. Very few portable ice makers have this feature.
Under-counter and freestanding nugget ice makers are much more involving when it comes to installation and setup.
They don't have a water reservoir and instead need to be connected to a water line. So you may have to call in a plumber.
As for the drainage, there are two possible methods. If you have a floor drain in your kitchen, look for a gravity drain model. It will have a tube where melted water flows naturally into the drain. This is the easy method.
If the water cannot floor into your drain via gravity – for example if you are draining it into your sink – you need to buy a pump drain model. Such an ice maker will come fitted with a built-in pump that forces water to rise through a tube for draining.
An under-counter ice maker will involve more work since you have to fit it in a cabinet. This may also require calling a pro. With a freestanding unit, you just set it up on the floor.
If you think getting great Sonic ice is worth the added installation costs and time, by all means go for the larger units. If you prefer a quick out-of-the-box experience, go for the portable models.
Is It Expensive?
Before you start shopping for a nugget ice maker, it is important to have a budget ready. How much are you willing and able to spend?
Portable ice makers are the cheapest, with most costing under $200. But you don't get the best quality nugget ice.
Larger ice makers are much pricier with most costing over $1,000. Specialized nugget ice makers such as the ones we have reviewed above will be even more expensive, usually costing over $2,000.
The extra zeros reward you with real Sonic ice and almost unlimited amounts of ice.
The decision is yours.
Conclusion
With plenty said about nugget ice makers, which type and model do you think you'll get? Under-counter, freestanding or portable?
Which model among Scotsman, Ice-O-Matic, VIVOHOME and IKICH fits your needs best?
If you still have a question regarding nugget ice makers, contact me or leave a comment below.
PIN TO MEMO BOARD!
Image Credits – Amazon.com, Photo Stocks.